Map Service
Vector outlines of countries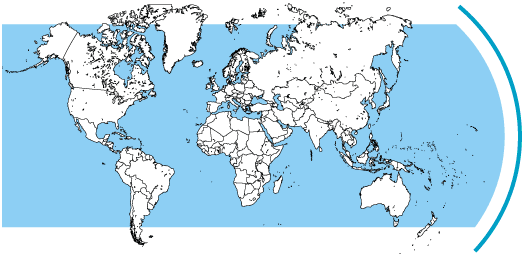 Every country as a single closed outline path, removable from the world map and scalable to any size. The world as a whole is contained on the "vector-world" CD in the following versions:
1. As shown above: countries uncoloured with black outlines.
2. Each country coloured individually, borders in grey.
3. Coloured, with names of states, islands and important cities.
All files are saved in the popular AI-EPS-format. They can be opened or imported in all common graphics and layout programs. All elements can be modified in shape and colour according to the capacity of your application.
On top of that, all countries as well as each continent are available individually as separate files.
On the coloured world map, all capitals and the most important cities are marked as red circles. The big lakes are pictured in light blue. The names of states and cities are grouped in a separate layer which can be shown or hidden. Also each continent has its own layer.
Additionally, we offer a personalised service to individually adapt all files to your own ideas. In this case, let us give you a quote. We can add elements that you may need for specific purposes, such as motorways, markers denoting your branch offices, detailed views of particular regions, additional roads, rivers, etc.
You will receive a CD for 49 Euro net (regional value added tax may apply - 19% in Germany). This will give you limited rights of use for all contained files for private and commercial purposes. Licence details on request.
Please place your orders informally with
info@axelhofe.de
. Right of return within 14 days if CD package remains sealed.